NEW DEADLINE FOR NOMINATION OF CANDIDATES:
JUNE 30th, 2011
______________________________________________________________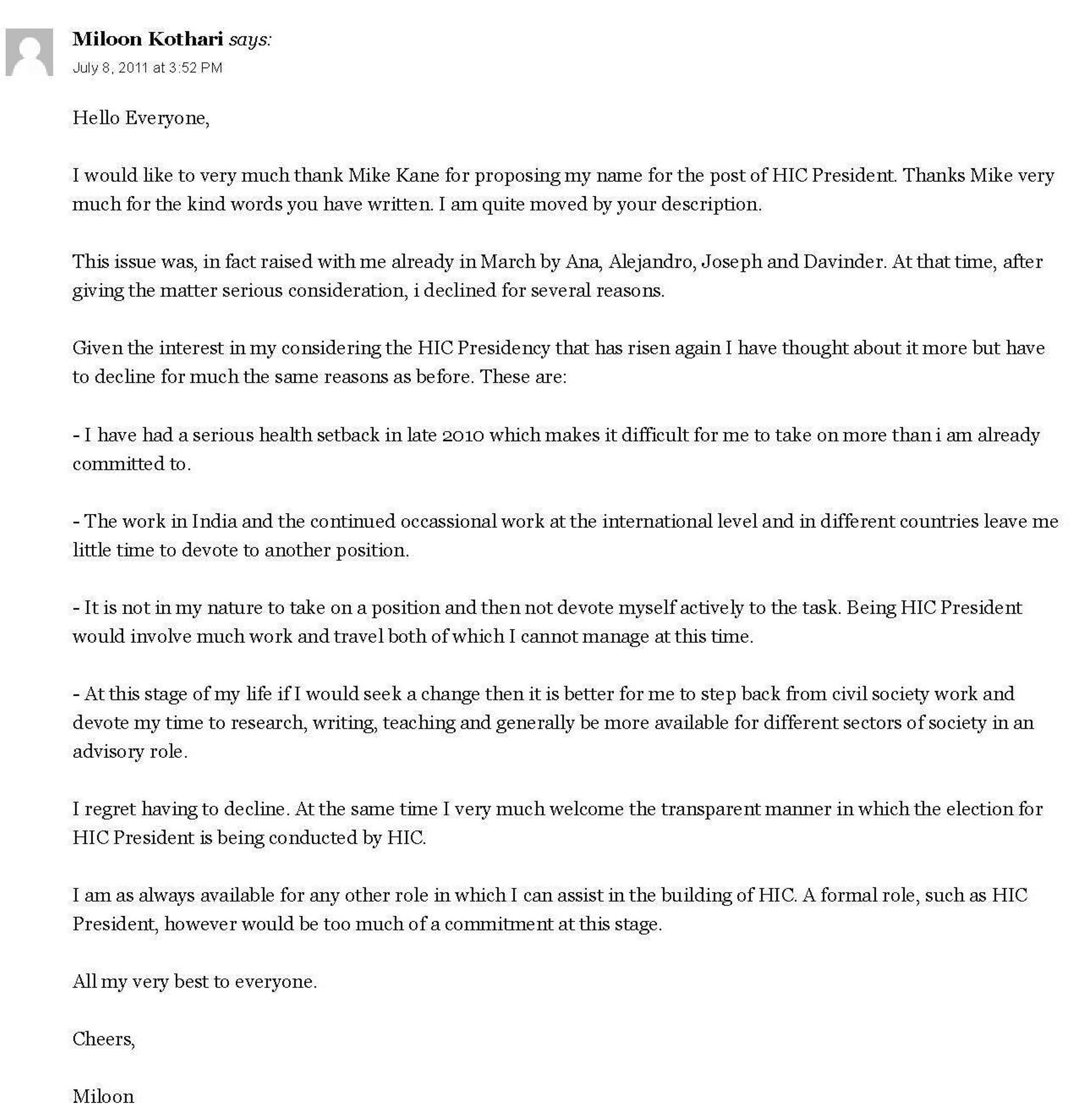 ______________________________________________________________
Subject: Nomination for HIC – Maria Lorena
From: "Hyowoo NA"
Date: Wed, June 29, 2011 10:09 pm
To: ec-president2011@hic-net.org
Candidate Name: Ms. María Lorena Zárate
Candidate Organization: HIC-AL
Name: HYOWOO NA
Organization: ASIAN BRIDGE
On behalf of ASIAN BRIDGE, a member of HIC, I would like to ask you to
consider my recommendation of Ms. María Lorena Zárate of HIC-AL for the
president of HIC.
My nomination is based on three reasons.
Firstly, we need change and rebuild our leadership. The HIC has a tradition
and history of longer than 35 years now. And this is the time to renewour
organizationand leadership according change of the world in which we live
today. Lorena has been actively involved both regionally and globally for
more than 10 years.With her firsthand experience, I believe she more than
qualifies for young and global leadership for tomorrow's open HIC.
Secondly, for a promising future HIC will have to focus on strongeridentity
and larger number of membership. For this reason, HIC urgently needs to
visit, encourage, and inspire local fields all over the globe. Lorena has
been doing this in many countries in Latin America to unite people and
increase membership, while based on local community herself. She would be
the most appropriate person to extend her experience in Europe, South
America, MENA, and Asia to build a strong solidarity.
Lastly, it is essential that the activities of HIC be grounded around global
agenda. Lorena played a leading role in making main policies of the HIC such
as "City for All," which deeply influenced global civil society.
I, therefore, strongly recommend Lorena for the HIC's new leadership with
solid policies and global vision. I am confident that she would use her
knowledge and experience for the overall betterment of HIC. Whether or not
the HIC continues to move forward and make progress depends on our choice
now.
Sincerely,
HYOWOO NA
Executive Director
ASIAN BRIDGE
—
Na, Hyo-Woo
"Let the World change you, and you can change the World!"
Asian Bridge
3rd floor, Wonje Bldg, 93-25, Galwol-dong, Yongsan-gu, Seoul, S.korea.
140-807
Tel : (+82-2) 832- 5448, Fax :(+82-2) 832-5449
E-mail : asianbridge21@gmail.com www.asianbridge.asia
________________________________________________________________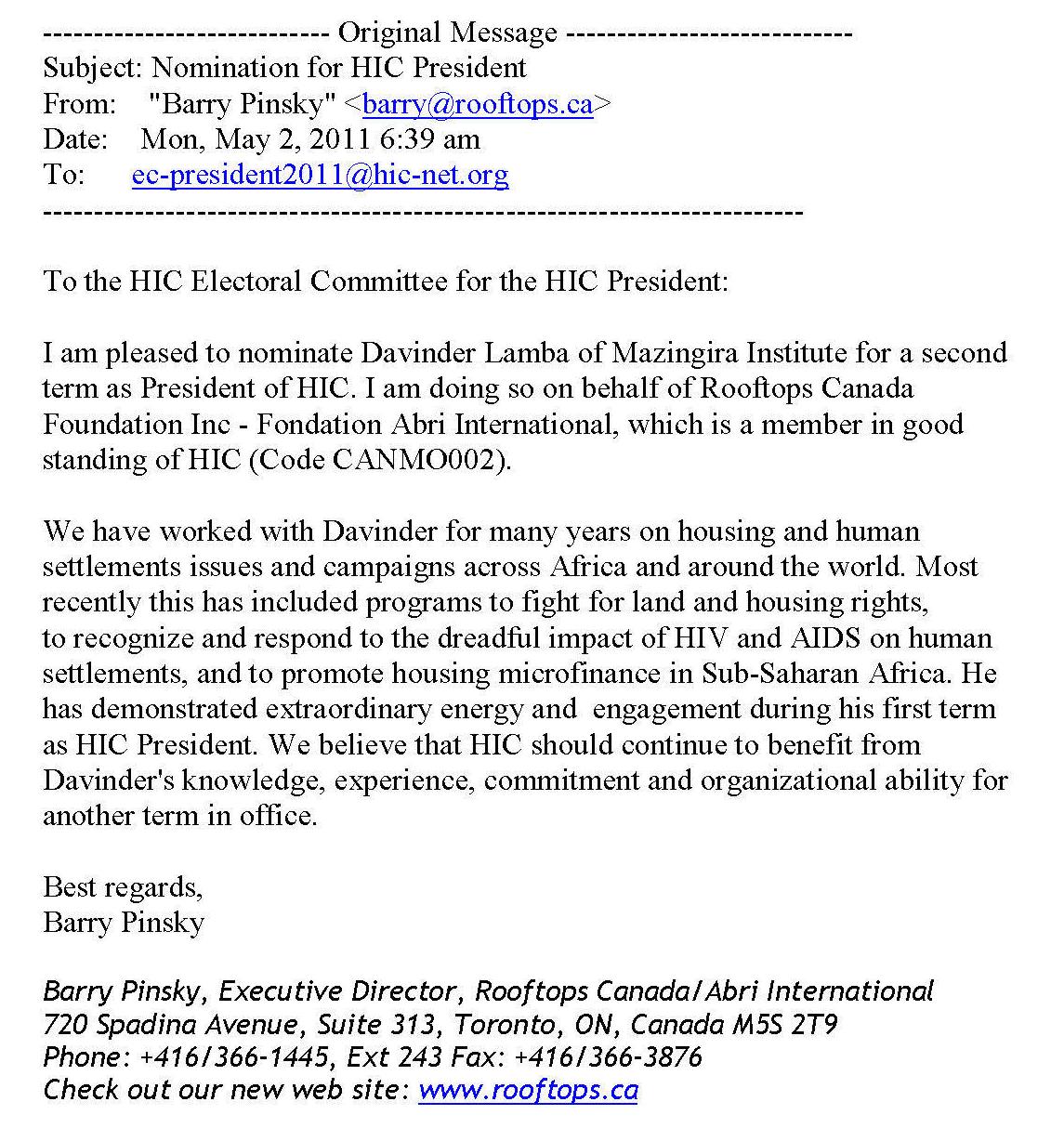 Call to nominate candidates
Extract from the "HIC Presidential and Board Election and Representation By-Law (2008)" (http://www.hic-net.org/document.php?pid=2911)
Eligibility for HIC President
20. Eligible candidates to HIC President shall be representative of a Coalition Member organization in good standing for at least three (3) years at the time of the nomination.
21. The candidates for the position of HIC President shall be nominated by a minimum of five (5) Members of the Coalition in good standing for at least one year at the time of the nomination, and based in any region.
Nominations
24. In order to confirm the eligibility of any candidate, both the nominee and the nominees own organization each shall confirm in writing their acceptance of the candidacy.
25. For the purpose of the electoral campaign, two (2) documents are required: from the nominees own organization, a brief statement indicating the name and general activities; from the person nominated a bio and a motivation letter.
–    the name of your candidate
–    the organization your candidate belongs to
–    your name
–    the organization you belong to
–    your HIC member code (stated on the list)
________________________________________________________________________________________________________ NUEVA FECHA TOPE PARA LA NOMINACIÓN DE CANDIDATO-AS:
30 JUNIO 2011

Llamado a nominar candidato-as
Extracto del "Reglamento para las elecciones del Presidente y de los representantes al Consejo de HIC (2008)" (http://www.hic-net.org/document.php?pid=2912)
Condiciones de elegibilidad para el Presidente de HIC

20.    Los candidatos elegibles para el puesto de Presidente de HIC deben ser representantes de una organización afiliada a HIC, al día durante al menos tres (3) años al momento de la nominación.
21.    Los candidatos elegibles para el puesto de Presidente de HIC deben ser nominados por al menos cinco (5) miembros de la Coalición ubicados en cualquiera de las regiones, al día desde al menos un año previo al momento de la nominación.
Nominaciones
24.    Para confirmar la elegibilidad de cualquier candidato, tanto el nominado como su organización deben confirmar por escrito su aceptación de la candidatura.
25.    Para los efectos de la campaña electoral, se requieren dos (2) documentos: de la organización del candidato, una pequeña reseña indicando su nombre y sus actividades generales; del candidato una breve biografía o CV y una carta de motivación.
Para verificar si su organización está al día, pulse aquí.
Para nominar su candidato-a, envíenos un email a ec-president2011@hic-net.org que contenga:
–    el nombre de su candidato-a
–    el nombre de la organización a la cual pertenece su candidato-a
–    su nombre
–    el nombre de la organización a la cual usted pertenece
–    su código de membresía de HIC (figurando en la
lista
)
________________________________________________________________________________________________________

NOUVELLE DATE LIMITE POUR LA NOMINATION DE CANDIDAT(E)S:
30 JUIN 2011
Appel à nomination de candidat(e)s
Extrait du "Règlement pour les élections du Président et des représentants au Conseil de H.I.C. (2008)" (http://www.hic-net.org/document.php?pid=2913)

Conditions d'éligibilité du Président de H.I.C.
Les candidats au poste de Président de H.I.C. doivent être des représentants d'organisations affiliées à  la Coalition à jour depuis au moins trois (3) ans au moment de leurs candidatures.
Les candidats au poste de Président de H.I.C. seront nommés par au moins cinq (5) adhérents à jour depuis au moins un an au moment de leurs nominations, sans distinction de leur appartenance régionale.
Nominations
24. Afin de confirmer les conditions d'éligibilité de tous les candidats, la personne désignée et son organisation doivent confirmer par écrit leur acceptation de la désignation du candidat.
25. Pour la réalisation de la campagne électorale, deux (2) documents sont requis: de la part de l'organisation du candidat, une note indiquant son nom et ses activités générales ; de la part du candidat une courte biographie ou un CV ainsi qu'une lettre de motivation.
Pour vérifier si votre organisation est à jour, veuillez cliquer ici.
Pour nominer votre candidat(e), veuillez nous faire parvenir un email à ec-president2011@hic-net.org comportant:
–    le nom de votre candidat(e)
–    le nom de l'organisation à laquelle appartient votre candidat(e)
–    votre nom
–    le nom de votre organisation
–    votre code d'adhésion à HIC (récupérable sur la liste)